32 Non-Traditional Thanksgiving Recipes to Impress Your Guests
Let's talk turkey. 
What comes to your mind when you think about the perfect Thanksgiving dinner? Mashed potatoes, cranberry sauce, and a show-stopping roast turkey? That's great and all, but sometimes the classic Thanksgiving dinner can get a little humdrum. In this article, we'll explore our favorite mold-breaking recipes that will satisfy the entire table.
Can I Smoke a Thanksgiving Turkey?
Your turkey is the star of the show. The headliner. The box office gold. So give your guests the ol' razzle-dazzle with our Ultimate Dry-Brined and Smoked Turkey. 
Yes, you'll have to bust out the smoker for this one. Turkey and smoke are like soulmates—they go together like potatoes and gravy. Prepare your turkey with a generous amount of salty turkey rub like our Fly the Coop seasoning. Place your turkey in the refrigerator for 24 to 48 hours before removing and stuffing. Use apples, onions, citrus fruits, and other aromatic ingredients. Once stuffed, wrap the turkey up in twine and place that present in the smoker.
Alternative Thanksgiving Meals
This isn't your average Thanksgiving dinner. Here at PS Seasoning, we like breaking jello molds and reimagining traditions. Instead of classic potatoes and a perfectly stuffed bird, we're going against the grain with tipsy turkeys and spicy casseroles. 
Have a small crowd this Thanksgiving? Whether you've removed the table leaf or are having a simple Friendsgiving, our Roasted Turkey Roulade will become an instant favorite. 
Also called a turkey roll, a turkey roulade is a dish consisting of long, savory strips of our favorite Thanksgiving bird stuffed with your choice of ingredients. For this recipe, we'll be using cremini mushrooms, garlic onion, sherry, and a dash of Good Fella Italian Herb.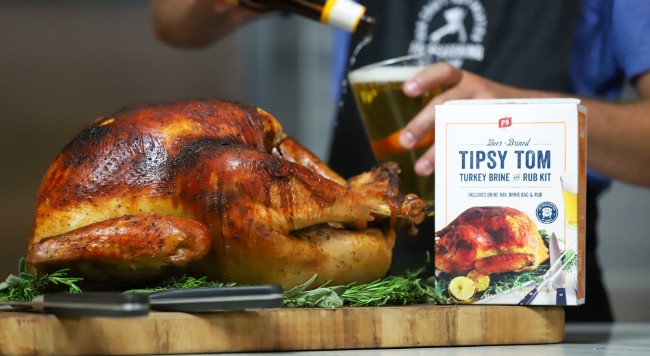 We might be dumping beer on this turkey—but rest assured, this buzzard won't get you buzzed. 
For this recipe, we recommend using two 12-ounce cans of ale or lager alongside our Tipsy Tom Beer-Brined Turkey Kit to turn out the juiciest, most flavorful gobbler your tastebuds won't be able to get enough of. Get basted this Thanksgiving and make our Beer Brined Turkey the star of your dinner table.
The green bean casserole has been a permanent dinner table staple for decades. But, let's be real—sometimes, the classics can get a little boring. 
Add some spice to your feast this Thanksgiving with our Jalapeno Popper Green Bean Casserole. We take the creamy jalapeno popper and twist it into a flavorful explosion busting at the edges of your casserole dish. All you'll need is an open mind and a dash of our Bacon Bomb Jalapeno Hickory seasoning for a dish that will blow your friends and family away.
Give this bird a beer bath when you cook our Beer Brined Turkey Tenderloins. Soak your turkey tenderloins in a brine of your favorite beer, brown sugar, garlic, and our Cock-A-Doodle Brew Rub for a melt-in-your-mouth experience.
Farmhouse  Frittata isn't just a fun recipe to say ten times fast. This healthy breakfast or Thanksgiving side dish is packed with eggs, asparagus, spinach, parmesan, and our Farm House Veggie Blend for a dinner table winner.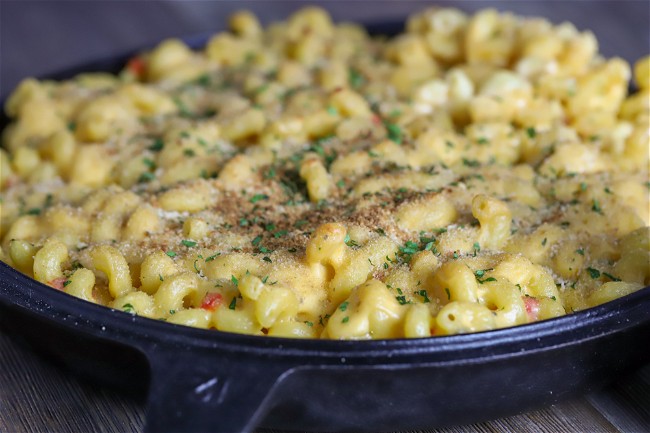 We believe that any time is a great time for macaroni and cheese, especially when it comes to holiday fare. Whether you're young or young at heart, our Smoked Pimento Mac and Cheese is the perfect addition to your fleet of Thanksgiving favorites. 
Cheesy, spicy, and full of crunch, this macaroni and cheese will win your guests over with its nostalgic and piquant flavors. Fire up that smoker—and don't let up on the cheese.
Don't slow your roll this Thanksgiving and give our Homemade Pretzels a go. The best part? You don't have to be an expert baker to make these pretzels.
Pretzels don't need to be perfect, so you shouldn't worry about perfection when rolling the dough. Place these pretzels in the middle of your dinner table for an easy rippable and dippable appetizer the whole family will love. Enjoy with mustard or beer cheese dip.
Are you a garlic lover? How about parmesan cheese? Certainly a fan of the occasional carbohydrate, right? 
Well, you're in luck because our Garlic Parmesan Irish Soda Bread has all the fixings your tastebuds have been dreaming about. This easy homemade Irish Soda bread is the perfect side to enjoy at your table this year. Simply add bacon, season with our King Shallot Black Garlic, and watch this dish become the Thanksgiving breadwinner. 
You can't have Thanksgiving without a pumpkin pie—except this one will give you bragging rights. 
This pumpkin pie is full of cinnamon, spice, and everything nice. What sets our Cinnamon Spice Pumpkin Pie apart from the rest is its pie crust. We lace this homemade pie in our sweet Apple Pie Cinnamon Spice Rub for a burst of flavor in every bite. And remember, no pumpkin pie is complete without fresh whipped cream.
Be sure to make enough of this one, because our Apple Pie Crumble Cheesecake isn't safe from hungry hands.
The foundation of this favorite dessert starts with sweet and salty graham cracker crumbs. The filling consists of a creamy cheesecake filling combined with apples and a crumble topping. Grab your Apple Pie Cinnamon Spice Rub, because you'll need it again for this one. 
Planking? No, not that kind of plank. Our rustic Cedar Plank Mashed Potatoes will be your favorite Thanksgiving fad this year. Season these taters with a bit of our King Shallot seasoning for a blast of black garlic, shallot, and herbs in every creamy bite. 
Our Smoked Sweet Potato and Bacon Mash will be a dinner table smash this Thanksgiving. Simply smoke your sweet potatoes until tender and mash together chopped bacon and our Bacon Bomb seasoning for a sweet and salty spoonful.
It's not officially Thanksgiving until there's a pumpkin pie in the middle of the table. Skip the store-bought pies and turn your attention to your smoker for a delicious, freshly smoked pumpkin puree. Finish this smoked gourd with a dash of our Apple Pie Rub.
Give your guests something to gobble about with our BBQ Smoked Turkey. Brine your bird, pat it dry, and rub our smokey barrel-aged Whiskey Barrel BBQ into the meat for a delicious Thanksgiving turkey with a twist. 
There isn't anything old-fashioned about our Prime Time Texas Toast Stuffing. Stuff your face as full as the turkey this Thanksgiving with an elevated stuffing recipe that will surely win over your entire flock. Just use one loaf of Texas Toast, onion, celery, sage, chicken broth, and our Prime Time Buttery Beef Rub.
This isn't your average spoonful of pudding. Our Street Corn Pudding recipe has the right amount of spice to kick your Thanksgiving into high gear. Go loco over this incredible pudding dish by adding a generous dash of our Elote Loco Street Corn Seasoning.
Our Candied Bacon Brussel Sprouts will float like a butterfly and sting like a bee—especially when you use our Bee Sting Hot Honey Rub. Candy your bacon on a foil-lined tray by seasoning it with Bee Sting and brown sugar. Chop off the bottoms of your sprouts, cut them in half, and give them a good toss with your chopped candied bacon and roast.
What's more exciting than Thanksgiving dinner? Knowing you have a fridge full of leftovers. Use what's left of your Dry-Brined & Smoked Turkey to create a brand-new recipe using turkey, gravy, mashed potatoes, green bean casserole, and our Black Gold Garlic Pepper to taste. 
Our King Shallot seasoning and Black Belt Korean BBQ rub are like the wind beneath these turkey wings. These massive turkey wings are so big, they're practically a meal in itself. Make enough for the whole family, because these wings will take flight faster than you think.
Potatoes are one of the most versatile vegetables you can buy. So why not make them a little interesting? Mash your potatoes with cooked bacon, Swiss cheese, and King Shallot. Let them chill in the freezer before coating them with breadcrumbs and frying them in your air fryer.
Who doesn't love cheese curds and a classic old-fashioned? Well, we're melding the two together to make the best of both worlds in a single bite. We're taking this beloved classic and elevating it with bourbon-flavored cherries and creamy brie. Season with On the Rocks Bourbon Pepper. 
Who says Oktoberfest has to end? Our Pretzel Mustard Stuffing is full of buttery pungent flavor thanks to our Bier Hall Bavarian Ale Mustard. Keep the party going all Thanksgiving long and enjoy one forkful after the next.
Complete your holiday tradition with a delicious apple pie—but not just any apple pie. We've added apples to this pie for the perfect sweet and crispy bite. Seriously, you'll be falling for our Apple Pecan Pie like love at first bite. 
If you're a beet fan, then you'll love our Smoked Beet Salad. Beets already have a delicious earthy taste—so why not add a little bit of elemental flare to really make that flavor pop? Sweet, tangy, creamy, crunchy, and oh-so-earthy. This salad has it all.
Get stuffed this Thanksgiving with Shallot & Parmesan Stuffed Mushrooms. These Baby Bella mushrooms may look dainty—but their flavor is anything but. Pop one of these fully-loaded Bella caps into your mouth for an explosion of buttery, black garlic, and cream filling.
Remember walking through the pumpkin patch sipping on hot cider? Pack the joy of fall into a buttery, pull-apart donut with our irresistible Apple Cider Donuts. These cinnamon sugar and apple cider-flavored donuts won't just win the kids over—they'll win you over, too.
There's no such thing as a leftover Baked Brie Apple Crisp. This appealing appetizer will be gone before you know it. Top this recipe with cooked apples, chopped pecans, and a crumble topping for a mouthwatering dish just waiting to be devoured.
Shake a leg this Thanksgiving with our theme park-worthy Smoked Turkey Legs. Bring out your inner caveman or woman with our tasty, juicy smoked turkey legs just begging to be gnawed on. Brine overnight in pickle juice, citrus, and herbs. Season with Fly the Coop and Bee Sting Honey Chipotle.
Not Hasselhoff, silly—Hasselback. Although, we think David Hasselhoff would love our Hasselback Butternut Squash recipe, too. This accordion-style side dish will have everyone fighting for a bite. We fill this squash with butter and our Farm Fresh Veggie Blend and top it with nutty parmesan, pine nuts, and fresh herbs.
Sweet, smokey, and they melt in your mouth? These Smoked Hasselback Sweet Potatoes are the full package when it comes to flavor. Thinly slice these sweet potatoes and rub them in a coat of butter and Apple Pie Rub. These potatoes open up accordion-style as they smoke for a visually-appealing side dish that will please your eyes and your tastebuds.
It isn't easy being green—but it's a little easier when mustard is thrown into the mix. Make our Honey Mustard Roasted Green Beans the golden star of your side dishes. Just season and drizzle your green beans with our Jackpot Honey Mustard Rub and Jackpot Carolina BBQ sauce for a Thanksgiving dinner winner.
Hop Aboard the Gravy Train With PS Seasoning
Thanksgiving is a time to be shared with friends and family—so make it memorable with a non-traditional Thanksgiving feast. At PS Seasoning, we have the right kind of spice you need to take your Thanksgiving dishes from good to incredible. Shake your tail feathers and shop our full collection of seasonings, spices, rubs, and more.