How to: Venison Jalapeno Summer Sausage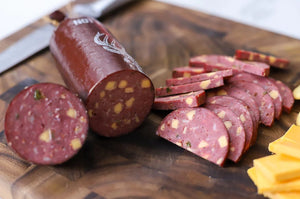 SUMMER SAUSAGE 101: HOW TO MAKE HOMEMADE VENISON SUMMER SAUSAGE
Learn how to make delicious, tangy homemade summer sausage
Learn more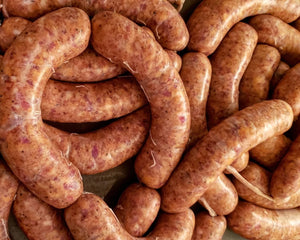 10 TIPS & TRICKS FOR BETTER HOMEMADE SAUSAGE
Whether you're new to sausage making to an all-out pro, our top tips and tricks will ensure you have optimal, tender, juicy sausages.
Learn more
HOW SUMMER SAUSAGES ARE MADE

While the sausage grinder may bring all the excitement, and the casing may show off skill, there's a step in between that really makes a difference for how your summer sausage tastes — the sausage seasoning! Get the summer sausage seasoning right, and you will have the best summer sausages; get it wrong, and you'll be back at the grinder again.

PS Seasoning has a wide range of summer sausage seasoning choices so you can make summer sausage in an array of styles:venison summer sausage, jalapeno cheddar summer sausage, bourbon BBQ summer sausage… The possibilities are infinite! Experimenting with our summer sausage seasonings and sausage-making techniques will keep you busy, and well-fed, for a while.
WHAT MEAT DO YOU USE TO MAKE SUMMER SAUSAGES?

What comes to mind when you think of sausage meat? Pork, chicken, beef. But sausage can be made from all kinds of meat, not just ground pork. There's lamb (common with merguez for instance), veal, turkey and venison, even vegan sausage. Heck, even gator! As long as you can add enough fat, it can be great for sausage.
HOW TO SEASON SAUSAGE

There are as many different sausages as there are seasonings. Looking for some ideas of what to make? Check out a few of our sausage types below, and be sure to send along pics of your best meals.
HOW TO MAKE SUMMER SAUSAGE

Easy to store and delicious to eat, summer sausage is good for any season. And PS Seasoning can help you make it taste great not only with our amazing blends of summer sausage seasonings but also with our many homemade sausage recipes.

With our wide range our summer sausage seasoning including jalapeno sausage seasoning, smoke roasted summer sausage seasoning or old fashioned summer sausage seasoning, you can make any type of summer sausages from traditional to completely unique!

We offer traditional mixes, with a blend of paprika and other spices, as well as different takes on this classic, like spicy garlic, featuring mustard seed and black pepper, and of course, garlic. 

If you're just getting into your sausage-making hobby, check out one of our summer sausage kits (garlic or jalapeno) containing everything you need to transform your meat of choice.
HOW LONG DOES SUMMER SAUSAGE LAST

As long as you keep you summer sausage in a cool place such as the refrigerator, your homemade summer sausage should last about 3 weeks before it starts going bad. Homemade summer sausages generally last for a shorter period of time than pre-made summer sausages you may find at the grocery store. This is because of the additives and preservatives generally added in industrial summer sausages. 
UNIQUE SAUSAGE SEASONING

We offer sausage seasoning for other varieties of sausage, too. From Polish sausage to Weisswurst, Slovenian Kranskies to Linguisa, you will find it here. Explore our sausage seasonings to your heart's content above.