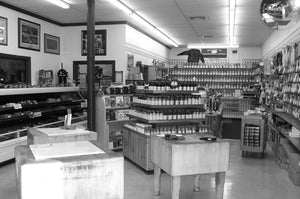 FOUR GENERATIONS OBSESSED WITH FLAVOR
A LEGACY OF QUALITY
One cold Wisconsin winter day in 1976, the homemade smoker Harold Hanni crafted from an old chest freezer caught on fire. Nearly burning his house down, Harold was determined to find a better way.

After several drafts, Harold finally settled on his first smoker, the Model 100. Made by sausage makers, for sausage makers.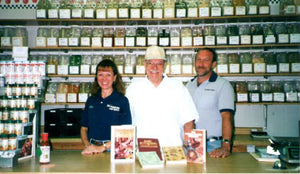 a family obsessed with flavor
After Pro Smoker was established, Harold realized there was a need for sausage seasonings to go along with his homemade smokers. Harold, along with his son Ken and Ken's wife, Kate, established PS Seasoning in 1986. ⁠
⁠
The company opened a storefront in Iron Ridge, WI where spices were hand-scooped for customers. The store also sold sausage-making supplies, cheese, and smoked meats. Harold became the company's mascot and the cartoon icon Lil' Harry became synonymous with old-world flavor and craftsmanship. ⁠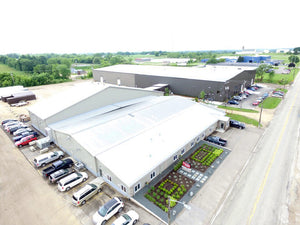 four-generations strong
Today, our facility has grown from a small storefront to a 100,000 sq foot facility with a library of over 3,000 blends. Through new innovation and product development, the next generation of the Hanni family is committed to honoring the past while still preparing for the future.
PS Seasoning & Pro Smoker are proud to be a 4th generation family-owned and operated company, still dedicated to the same quality and service that has been our cornerstone since the beginning.
OUR TIMELINE
1931 - Being true to his Swiss heritage, Gottfried Hanni opened Blue Ribbon Cheese Factory (1931-1980)
1976 - Harold Hanni builds the Lil' Harry, his first homemade smokehouse
1977 - Harold forms Pro Smoker n' Roaster
1986 - Ken & Kate Hanni develop seasoning blends for their customers and form PS Seasoning
1996 - Ken & Kate's son Joe Hanni joins the team
2008 - Expanded facilities by 10,000 sq ft
2013 - Expanded facilities by 20,000 sq ft
2015 - Expanded facilities by 66,000 sq ft
2016 - R&D Expansion, new state-of- the-art culinary center
2017 - Addition of sausage processing kitchen
2020 - New liquid manufacturing capabilities added
TODAY - President Joe Hanni, along with his wife Trish and three children, continue to carry on the family legacy
pro smoker
Our sister company, Pro Smoker, is the leading manufacturer of commercial and home processing equipment.
Learn More