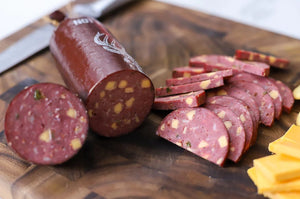 SUMMER SAUSAGE 101: HOW TO MAKE HOMEMADE VENISON SUMMER SAUSAGE
Learn how to make delicious, tangy homemade summer sausage
Learn more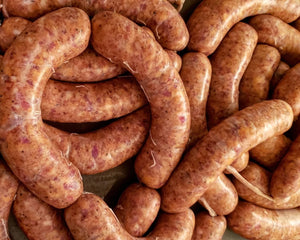 10 TIPS & TRICKS FOR BETTER HOMEMADE SAUSAGE
Whether you're new to sausage making to an all-out pro, our top tips and tricks will ensure you have optimal, tender, juicy sausages.
Learn more
What is High Temp Cheese?
TURN UP THE HEAT
Create your most delicious meal with the addition of high-temp cheeses. Add bold flavors and soft textures to your sausages, jerky, and burgers without any of the gooey mess. PS Seasoning is here to help you enhance your palate with our high temperature cheeses.
WHAT IS HIGH-TEMP CHEESE?
High-temperature cheeses (or high-temp) can withstand the heat of cooking and hold their shape without melting. This makes them a perfect addition to meats and provides both a creamy flavor and a soft texture. Go ahead and grill or smoke this cheese to get the most flavor out of your meat.
HIGH-TEMP CHEESE VS REGULAR CHEESE
High-temp cheese is made by heating the milk to a higher temperature before it curdles. This process helps create a firmer and more elastic cheese, which can be stretched or pulled into strings. Regular cheeses are made by letting the milk cool down after the curdling process has taken place. High-temp cheeses are great for making homemade sausages or other meats since they won't lose their form when smoked or grilled. You'll get all the tasty benefits of cheesy goodness without any of the melty mess.
AT WHAT TEMPERATURE DOES CHEESE MELT?
Moisture content, age, and how the cheese is made can all impact the melting temperature. Take a look at the temperatures various cheese melts at with our cheese melting point table:
| | |
| --- | --- |
| Type of Cheese | Melting Temperature |
| Soft cheeses (like feta, brie, ricotta, mozzarella) | 130 degrees Fahrenheit |
| Aged cheeses (like cheddar and swiss) | 150 degrees Fahrenheit |
| Dry and hard cheeses (like Parmigiano-Reggiano) | 180 degrees Fahrenheit |
| High-temp cheeses | 400 degrees Fahrenheit |
BEST MELTING CHEESES
The cheeses that will melt the best are high in moisture, soft, and often made in high altitude climates like the Alps. Cheddars, gouda, brie, and gruyere are all some of the best cheeses for melting. When you're looking for high-temp cheeses that won't melt as easily, opt for the classics — high-temp mozzarella, swiss, or cheddar. For some additional flavor, you can try pepper jack, habanero, or bleu high-temp cheese.
HOW TO BEST MELT CHEESE
Here are some tips to help you get the smoothest melted cheese every time.
Choose your cheese wisely! Pick a soft cheese that will melt smoothly.
Before melting, get your cheese to room temperature.
Grate the cheese to prevent chunks that melt at different rates.
Use low heat.
Be careful not to over stir which can cause clumps.
Add starch and acid.
Keep the cheese warm before serving.
WHAT ARE HIGH-TEMP CHEESES USED FOR?
You can use high-temp cheeses in a number of ways in the kitchen. Load up your homemade sausages with some cheesy goodness thanks to our high-temp cheese for sausage making. Or you could stuff some high-temp cheese in your next burger for an extra delicious bite. High-temp cheeses also add great flavor to homemade snack sticks. With a variety of flavors to choose from, high-temp cheeses add that extra something you've been looking for.
A CHEESE LOVER'S DREAM
Enhance the flavor and texture of your next homemade meal with some high-temp cheese that can withstand the heat. Pack your meal with cheesy goodness from PS Seasoning and add some stretchy cheese or gooey and flavor packed cheese to your next recipe.