10 Best Smoker Recipes for Beginners and Master Chefs
Sure, you can grill a piece of fish or cook a pasta dish the traditional way—but why be boring? Whether you have a pellet or electric smoker, we have got you covered when it comes to fun and exciting smoker recipes. 
So fire up that smoker, and let's dig into our top ten smoker recipes.
Top 10 Smoker Recipes
Who doesn't love macaroni and cheese? Bring out your inner kid at heart with our cheesy Smoked Pimento Mac & Cheese. This spin on a classic American dish will have your tastebuds craving seconds—and even thirds. 
Add a bit of elemental flare to your macaroni and cheese with a bit of smoke and spicy pimentos. Start by cooking your pasta and stirring up a roux in a separate saucepan. You'll want to use our Multi-Tool Ultimate Blend for that ultimate flavorful punch.
Skip the store-bought spiral glaze and make the holidays extra special this year by curing and smoking your own ham. Once you've selected your ham, you can start your curing prep work.
We'll be straight up with you—prepping your ham takes a while. But once you've smoked your ham to perfection and topped it with our Cinnamon Rub, your friends and family won't be able to stop talking about your masterful cooking skills.
When it comes to smoking, patience is a virtue. Trust us, these smoked chicken wings are well worth the wait. Take your weekend dinner or football party to the next level with tender, juicy, smokey wings coated in a delicious savory rub. 
Whether you're a bone-in or out type of wing eater, you'll never want to eat chicken wings the same way again after trying our Smoked Chicken Wings recipe—so get your game on and get smoking.
Your catch of the day will be a total catch at the dinner table with our Smoked Walleye Recipe. Instead of grilling your walleye the traditional way, move your fish to the smoker and witness pure smokey magic.
Season your walleye with our Tackle Box Fish Seasoning to reel in the perfect flavor. Serve your smoked walleye with a splash of fresh lemon for a nice citrusy surprise in every bite. 
Make your appetizer both memorable and appetizing with our Smoked Cream Cheese recipe. This unique bacon-loaded smoked cream cheese boat is the perfect sidekick to a plate of pasta chips. 
Use our sweet and spicy Notorious P.I.G. to season all sides of your cream cheese block. Fold it up in tin foil and let that baby smoke for an hour and a half. While your cream cheese is doing its thing in the smoker, you can start boiling your crispy pasta chips perfect for dunking into that smokey block of creamy goodness.
Bring the fun of theme park food into your home with Smoked Turkey Legs. With a dash of Cock-a-Doodle-Brew, our beer-infused smoked turkey legs recipe will win you and your family over.
Start by placing your turkey legs on a sheet tray and season with olive oil and Cock-a-Doodle-Brew. Let your turkey legs smoke for approximately an hour and a half before increasing the temperature. We know you can't contain your anticipation, but once you've raised the heat, you'll want to smoke your turkey legs for an extra 45 minutes to an hour.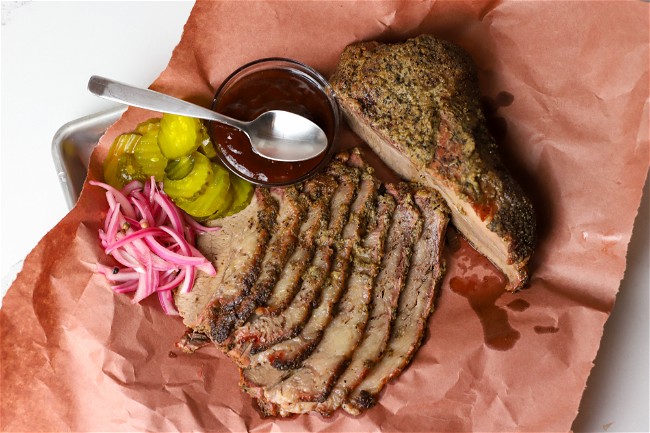 Get the tender smoked brisket you're craving the hot and fast way. Yes, our Hot and Fast method of smoking your brisket cuts down on smoking time, making this recipe an easy and delicious one to whip up whether you're planning a weekend get-together or a weeknight dinner. 
Steak lovers, this one's for you. Our Hot and Fast Smoked Brisket is juicy, tender, and has a steak-like flavor as opposed to the more traditional low and slow brisket. To kick things off, season your brisket generously with our BBQ General. Meanwhile? Fire up that smoker for a quick and easy smoker recipe.
Many pairings just complement one another. Coffee and cream, peanut butter and jelly, peas and carrots, and salmon in the smoker. Smoked salmon not only tastes incredible, but it also has plenty of health benefits to boot, making this an optimal healthy smoker recipe. 
It's not a surprise that smoking fish takes much longer than simply grilling it—but the taste is incomparable and worth a little patience. The secret to a mouth-watering smoked salmon is in our Cinnamon Spice Rub. Seriously, our smoked salmon recipe will have your hook, line, and sinker from the first bite. 
This isn't your average bologna. No, this not-so-mysterious meat is elevated with yellow mustard and our Texas Brisket Rodeo Rub for a piece of bologna with immense flavor. 
You can either use your own homemade bologna or bologna cut by your local butcher for this recipe. Slice and dice it any way you like, and use this tasty treat as an appetizer or the star of your next sandwich. 
We're taking the classic French Onion Soup and giving it an upgrade. Our Smoked French Onion Soup recipe is full of tantalizing smokey recipes your tastebuds won't be able to get enough of. 
Get a taste of buttery, caramelized onions in every bite intermingled with a smokey layer of gruyere cheese. Your spoon won't even be able to contain itself.
Get Smokin' With PS Seasoning
Whether you're looking for an easy, healthy, or downright vegetarian smoker recipe, PS Seasoning has your back. Get cooking with our sweet, spicy, and savory rubs and spices for that extra punch of flavor you've been craving. Shop our entire collection today at PS Seasoning.