Top 20 Fall Recipes to Fall in Love With
Fall is right around the corner, and you know what that means? Prime cooking time. 
We love fall here at PS Seasoning and want to share our favorite fall flavors with your family. From salads to desserts, we'll help you plan out your whole menu for the entire season. So grab a cup of apple cider, finish carving that pumpkin, and get comfy as we dive into our 20 best fall recipes.
Best Fall Recipes
Fall is a time of change—and that includes changes in the kitchen. 
As the temperature starts to drop outside, you can start warming up in the kitchen with fall recipes that will win your friends and family over. Keep reading to get the scoop on our top fall recipes.
Fall Salad Recipes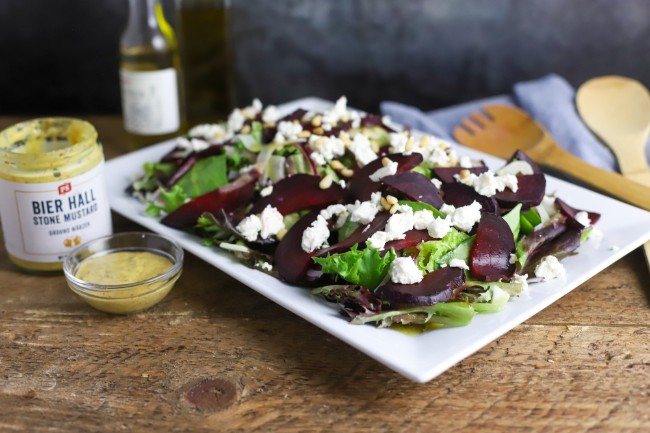 Sweet, tangy, and oh-so-creamy. Our smoked beet salad will add a crunchy blast of earthy flavor to your fall dinner plate that your tastebuds won't be able to resist. This colorful beet salad packs a punch, especially when drizzled with our Bier Hall Ale Mustard. 
Tell me about it, spud. This German Spud Salad is full of chunky bacon bits, zesty onion, and our saucy Brew City Mustard for a fun autumnal salad worth digging your fork into. Season with a little salt and pepper to taste and enjoy.
Fall Dinner Recipes
Pumpkin spice isn't just reserved for your lattes. Behold the Pumpkin Spice Beer Bratwurst—a brat filled with comforting pie spices and pumpkin ale. With a generous amount of salty, savory pork and enticing notes of your favorite gourd, this dinner recipe will be a fall family favorite.
Yes, we went there. Pumpkin Spice Ribs is the perfect transition dish from summer to fall. With a little prep work and plenty of apple cinnamon spice, our pumpkin spice-style rib recipe will surely get you in the fall spirit. Grab a fork or go ham and use your hands!
What's better than a bowl of chili on a chilly fall day? Dig into all the best fall flavors mixed into one hearty bowl of Roasted Pumpkin Chili. Simply roast an entire pumpkin in our Apple Pie Cinnamon Rub and stir it into a healthy amount of homemade chili.
Get your fall menu on a roll this season with our Roasted Turkey Roulade. What's a turkey roulade? It's a turkey roll dish featuring long strips of turkey stuffed with your favorite ingredients. The secret to a successful turkey roulade is in our Good Fella Italian Herbs. Sprinkle this boss of a seasoning into your stuffing for a taste remembered for years.
Fall Baking Recipes
When it comes to barbecue, you might be thinking of brisket burnt ends. But this isn't that. We're talking Carrot Burnt Ends—smoked carrots seasoned with our Black Gold Garlic Pepper and completely smothered in our delicious Bourbon Barrel BBQ Sauce. 
Cheesy and healthy? We've made it so! Dive into a plate of cheese-smothered cauliflower florets for a tangy bite of punchy flavor. Remember to baste the cauliflower steaks with a considerate amount of our Memphis King Tangy BBQ Sauce for a taste even the King himself would love.
We love a good twist—that's why we created the Jalapeno Popper Green Bean Casserole. The green bean casserole has been a Thanksgiving staple for decades. But sometimes, things just need a revamp. Our take on this holiday classic consists of a cream cheese base, bacon pieces, and perfectly breaded jalapenos for a perfect crunch in every bite.
Fall Soup Recipes
Celebrate soup weather in style with a hot and creamy bowl of Smoked Potato Soup. This soup has all the bells and whistles worthy of dunking your spoon into. Dice up your potatoes, make a homemade roux, and stir in our Bacon Bomb seasoning blend. 
Fall in love with a bowl of quintessential seasonal flavors. Our Butternut Squash Bisque is a sweet and nutty soup full of savory spices in every spoonful. Warm your heart and your soul with a taste of this autumnal dinner table staple. And don't forget our Apple Pie Cinnamon Spice Rub. 
Tomato soup and grilled cheese must be one of the greatest love stories ever told between two foods. We're here to take their relationship to the next level. Our Roasted Tomato Soup & Grilled Cheese includes our boss seasoning Good Fella Italian Herb for an elevated taste that will warm you up in every bite.
French onion soup is a timeless classic—so we decided to take that classic and make it better. Our Smoked French Onion Soup has a delicious layer of buttery caramelized onions, gruyere cheese, and homemade croutons that your fork will be begging to break through. 
Fall Dessert Recipes
This recipe has cinnamon, spice, and everything nice baked into a picture-perfect pumpkin pie. Complete your Thanksgiving dinner with a plate of pumpkin pie lined with homemade crust and filled with our Sweet Apple Pie Rub. Garnish with roasted pumpkin seeds. 
Wake up on a crisp fall morning with a taste of our French Toast Bake. This dish can either be served for breakfast or dessert. Using our Apple Pie Cinnamon Rub, mix eggs, milk, cream, and brown sugar before coating your bread. Serve and savor.
'Tis the season for apple pie. Apple pie is an American favorite loved by many. Our twist? Pecans! We've combined two classic flavors to create a pie with the perfect flavor and the right amount of flare in every slice. 
Usually, donuts pair well with a hot cup of coffee. These donuts belong with your steamy mug of apple cider. Sweet, buttery, and dunking-worthy, our Apple Cider Donuts are a sweet treat you and your family won't be able to get enough of this fall. 
Fall Snacks
Don't throw away those pumpkin guts! The inside of your pumpkin contains tons of seeds waiting to be roasted. The best part? It's so easy.  Simply separate and wash your seeds, then boil them in salted water. Drain, season with your favorite seasoning blend, and transfer to a baking sheet. Bake until golden brown and enjoy a  delicious and nutritious fall snack.
These Halloween Hot Dog Fingers will give your friends and family something to scream about. For an easy, fun, and spooky Halloween treat, simply use a small paring knife to cut lifelike fingernails and knuckle slits into your hot dogs. Boil and serve in a bun smothered with ketchup to really nail that severed look.
Give your snack the kick it needs, and gnaw on some Smoked Beef Sticks seasoned with our hot and zesty No. 493 Hot Stick Seasoning. This easy fall recipe will have you snacking in style throughout the season.
Fall in Love With Flavor at PS Seasoning
When the leaves start to turn red, and the air gets cool and crisp, you know it's time to bust out the pots and pans. PS Seasoning has all of the spices, seasonings, and rubs to create memorable fall dishes your friends and family will talk about for years to come. So grab that ladle, and let's get cooking. 
Ring in the new season in style and shop PS Seasoning today.