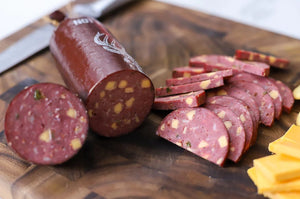 SUMMER SAUSAGE 101: HOW TO MAKE HOMEMADE VENISON SUMMER SAUSAGE
Learn how to make delicious, tangy homemade summer sausage
Learn more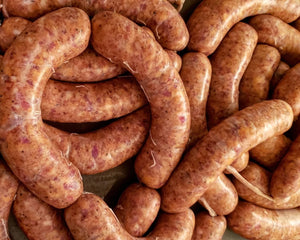 10 TIPS & TRICKS FOR BETTER HOMEMADE SAUSAGE
Whether you're new to sausage making to an all-out pro, our top tips and tricks will ensure you have optimal, tender, juicy sausages.
Learn more
Sausage Seasoning Tips
HOW THE SAUSAGE IS MADE
While the sausage grinder may bring all the excitement, and the casing may show off skill, there's a step in between that really makes a difference for how your sausage tastes — the sausage seasoning! Get the sausage seasoning right, and you have a flavorful masterpiece on your hands; get it wrong, and you'll be back at the grinder again.
PS Seasoning has a huge variety of sausage seasoning choices so you can make sausage in an array of styles, from link to ring, from bangers to bratwurst to summer sausage and weisswurst and snack sticks. Given there are more than 200 varieties of sausage in the United States — and thousands in Germany! — experimenting with our sausage seasonings and sausage-making techniques will keep you busy, and well-fed, for a while.
WHAT MEAT DO YOU USE TO MAKE SAUSAGES?
What comes to mind when you think of sausage meat? Pork, chicken, beef. But sausage can be made from all kinds of meat, not just ground pork. There's lamb (common with merguez for instance), veal, turkey and venison, even vegan sausage. Heck, even gator! As long as you can add enough fat, it can be great for sausage.
HOW TO SEASON SAUSAGE
There are as many different sausages as there are seasonings. Looking for some ideas of what to make? Check out a few of our sausage types below, and be sure to send along pics of your best meals.
FAMILY FAVORITES
The Hanni family (PS Seasoning's founders) has a long history of sausage-making, and seasoning, going back generations. No. 155 Blue Ribbon Wiener Seasoning is an award-winning sausage seasoning family recipe dating all the way back to the Hanni's origins in Switzerland — and even today, it's still a fan favorite. This sausage seasoning works great with wieners, hot dogs and sausages, and you can find instructions for a blue-ribbon preparation on its page.
BRING ON THE BOLOGNA
There's no one kind of bologna. We have bologna seasoning and cures that can help you make a range. From classic ring bologna with hints of sweetness, nutmeg and white pepper to a spicier blend with garlic and black pepper. Our German bologna blend brings garlic and mustard seed to the table for an authentic flavor. Mettwurst is made similarly to ring bologna, but has a different flavor more akin to a peppery, garlic bratwurst.
BRATWURST SEASONING FOR DAYS
Bratwurst is an iconic food for a crisp fall day with a beer by your side, but it's delicious all year-round. With more than 20 different bratwurst seasoning mixes, you can stay busy finding the perfect link you seek. We have Wisconsin favorite Sheboygan-style sausage seasoning; Cajun, jalapeno, even buffalo wing-inspired sausage seasoning and other spice mixes for a hotter flavor; and traditional bratwurst seasonings with a nutmeg emphasis. But there's no limit to our imagination when it comes to bratwurst seasoning: Philly cheesesteak? Check. Mushroom? Check. Sriracha and onion? Check. Red bell pepper, Parmesan cheese, tomato and garlic? Check. Korean BBQ seasoning? Check. The list goes on and on…
SWEET OR SPICY, ITALIAN SAUSAGE SEASONING
What is Italian sausage seasoning made of that gives it its unique flavor? Fennel seed is key, in conjunction with common spices like garlic powder, paprika and pepper. What makes sweet Italian sausage sweet? Mostly, it's simply because Italian sausage seasoning is less spicy — that push and pull of sweet and spice is what makes Italian sausage so unique. If you want something mild but still with those Italian herbs and flavors, try one of our sweet Italian sausage seasoning mixes. Or pick up a classic like our Blue Ribbon Fresh Italian sausage seasoning. Don't want to choose between hot and sweet? Try our hot and sweet Italian sausage seasoning. Cook up your sausage in delicious pasta or on a pizza, or however you like it, for a taste of Italia at home.
SUMMER SAUSAGE FOR ANY SEASON
Easy to store and delicious to eat, summer sausage is good for any season. And PS Seasoning can help you make it taste great with our amazing blends of summer sausage seasonings. We offer traditional mixes, with a blend of paprika and other spices, as well as different takes on this classic, like spicy garlic, featuring mustard seed and black pepper, and of course, garlic. If you're just getting into your sausage-making hobby, check out one of our summer sausage kits (garlic or jalapeno) containing everything you need to transform your meat of choice.
TIME FOR BREAKFAST SAUSAGE SEASONING
How do you like your breakfast sausage? A plump English banger? Maybe something a little Southern, a little country sausage seasoning? Our breakfast pork sausage seasonings work any time of day, any style you like, patty or link. Cook your sausage up the way you like it, with the flavors you want. Take your pork sausage up a notch with our hot breakfast sausage seasoning, or go with the mild classic or maple syrup breakfast sausage seasoning to please the whole family.
SNACK STICKS SEASONING
Looking for a snappy sausage you can take on the go? Our snack sticks do the trick, and our seasoning helps get them there. Make this jerky cousin with your favorite flavors using our seasoning. From our award-winning Willie's Snack Stick Seasoning to seven pepper (red hot!) to teriyaki, honey sriracha, Jamaican jerk and more, we have all the snack stick seasoning to keep you satisfied.
UNIQUE SAUSAGE SEASONING
We offer sausage seasoning for other varieties of sausage, too. From Polish sausage to Weisswurst, Slovenian Kranskies to Linguisa, you will find it here. Explore our sausage seasonings to your heart's content above.