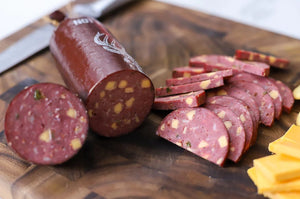 SUMMER SAUSAGE 101: HOW TO MAKE HOMEMADE VENISON SUMMER SAUSAGE
Learn how to make delicious, tangy homemade summer sausage
Learn more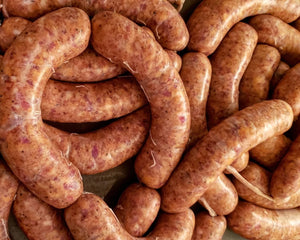 10 TIPS & TRICKS FOR BETTER HOMEMADE SAUSAGE
Whether you're new to sausage making to an all-out pro, our top tips and tricks will ensure you have optimal, tender, juicy sausages.
Learn more
Breakfast sausage seasoning tips
HOW BREAKFAST SAUSAGES ARE MADE

While the sausage grinder may bring all the excitement, and the casing may show off skill, there's a step in between that really makes a difference for how your breakfast sausage will taste — the sausage seasoning! Get the breakfast sausage seasoning right, and you have a flavorful masterpiece on your hands; get it wrong, and you'll be back at the grinder again.

PS Seasoning has a huge variety of breakfast sausage seasoning so you can make sausage in an array of styles. From beef breakfast sausage to turkey breakfast sausage and even venison breakfast sausage, anything is possible with the right seasoning. There are more than 50 varieties of breakfast sausage in the United States meaning you can keep experimenting with our breakfast sausage seasonings and sausage-making techniques to make the ultimate breakfast sausage links!
WHAT MEAT DO YOU USE TO MAKE BREAKFAST SAUSAGES?

What comes to mind when you think of breakfast sausage meat? Pork, chicken, beef, turkey. But breakfast sausages can be made from all kinds of meat, not just ground pork. There's lamb (common with merguez for instance), veal, turkey and venison, even vegan breakfast sausage. Heck, even alligator! As long as you can add enough fat, it can be great for breakfast sausages.
HOW TO COOK BREAKFAST SAUSAGE

How do you like your breakfast sausage? A plump English banger? Maybe something a little Southern, a little country sausage seasoning? Our breakfast pork sausage seasonings work any time of day, any style you like, patty or link.

If you like it with a deeply sweet flavor, try the No 274. Maple breakfast sausage seasoning.

More of a hot n' spicy fan and you want a kick from your sausages straight up in the morning? Give the No. 672 Hot breakfast sausage seasoning a shot.

And for the ones that prefer the tried and true breakfast sausage taste, the classic No. 117 Breakfast sausage seasoning is just for you.

Cook your sausage up the way you like it, with the flavors you want. Take your pork sausage up a notch with our hot breakfast sausage seasoning, or go with the mild classic or maple syrup breakfast sausage seasoning to please the whole family.

No matter your taste, there's a breakfast sausage seasoning for you.
UNIQUE SAUSAGE SEASONING

We offer sausage seasoning for other varieties of sausage, too. From Polish sausage to Weisswurst, Slovenian Kranskies to Linguisa, you will find it here. Explore our sausage seasonings to your heart's content above.