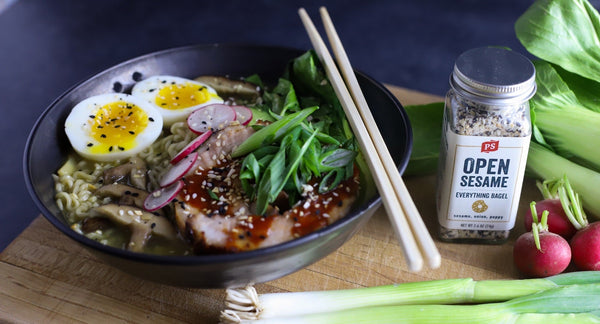 Spice Blends
Make every meal memorable with our thoughtfully crafted line of seasoning shakers & Grinders. Browse our collection of steak, taco, and poultry seasoning made from the freshest ingredients. Just a shake, grind, or sprinkle of these seasoning blends will transform any dish into a culinary masterpiece--no experience required.
Spice Up Your Meal with Creative Spice Blends
Seasoning blends are a simple way to enhance existing flavors and even add a kick to the food. Amp up your flavors with PS Seasoning spice blends. There are sweet, savory, fiery, smokey, and citrusy ways you can spice to your next meal.
How long do seasonings last?
Seasonings and spices don't really go "bad" but can lose their potency over time. Always seal the lids tightly and store them in a dry, dark area to retain freshness.
How to Use Seasoning Blends
Here are some tips from our kitchen for seasoning your food:
Add seasoning before cooking. This allows the flavors to absorb into the food.
Season from above. When you're adding seasoning to food already in a pan, seasoning from above gives a more even distribution.
What Is in Italian Seasoning?
Italian Seasoning is a staple in a spice rack and goes great on pizza, pasta, roasted vegetables, chicken, and pork roasts. Our Good Fella Italian Herb seasoning has all the classic ingredients found in Italian Seasoning: rosemary, basil, oregano, and thyme. We've also added sea salt, garlic, parsley, and black pepper to ours.
Steak Seasoning
When you're in the mood for a steakhouse experience without leaving home, our best-selling, butcher-approved Chop Shop seasoning pairs perfectly on our Blue Cheese Crusted Filet. Or if you're whipping out the grill to make some burgers, the Backyard seasoning blend might be more up your alley. This garlicky, buttery seasoning enhances the flavor of your meat for a truly decadent butter burger every time.
Fish Seasoning
Enhance the flavors of flaky seafood with our Tackle Box fish seasoning. Cinnamon, red pepper, paprika, and mustard pair together to give this seasoning a sweet kick of flavor. It perfectly seasons a Crawfish Boil or a Beer Battered Fish Fry that will leave you licking your fingers.
Poultry Seasoning
Take your chicken game to new heights with seasonings made specifically for poultry. The Fly the Coop blend of spices will bring out the juicy flavors of wings when you make the Off the Bones recipe. Or how bout a classic chicken sandwich? The Black Gold Garlic Pepper makes our mouthwatering Copycat Chick-fil-A Sandwich a tasty treat you can enjoy seven days a week.
Pork Seasoning
If you're looking for ways to elevate your pork dishes, we've got you covered. Our Lumber Jack Hickory Maple seasoning blend is the perfect way to spice up your pork. Made with real maple syrup, hickory, and a combination of spices, this blend can enhance any pork dish. Try it on our Hickory Cracker Bombs made with bacon, jalapenos, and buttery Ritz crackers.
All Purpose Seasoning For All Occasions
Spices are incredibly versatile — you can add them to just about anything to get more flavorful food. Plus, we've got quite a few all purpose seasonings such as our Multi Tool Let your heart (and stomach) guide you.
Check out how our customers have used our spices in the gallery above.