Your Guide to Cooking Perfect Over-Easy Eggs
Is there anything more iconic than the egg? Think about it. We'll wait.
Legend has it that the way you cook your eggs says a lot about who you are—but we're not here to tell you that you're a happy person just because you like your eggs on the sunny side. We're here to tell you the difference between the most popular eggs, how to cook them, and how you can incorporate them into five easy recipes.
Let's get cracking.
What's the Difference Between Over-Easy & Sunny-Side-Up Eggs?
Contrary to popular belief, over-easy eggs are not the same as sunny-side-up eggs. We're here to settle this misconception once and for all.

What are over easy eggs?
While sunny side-up eggs are simple eggs tossed in a pan, and seared on one side, over-easy eggs are actually cooked on both sides by flipping the egg over after a few minutes, but without breaking the yolk. This way, the egg whites are cooked to perfection, while the yolk remains runny.
How to Make Over-Easy Eggs
Over easy eggs start as sunny side up eggs in the pan, but the trick is to carefully flip them so that they're cooked on both sides.
The process starts like with regular sunny-side-up eggs. Carefully break an egg in an oiled pan and let it fry on one side for about 2 minutes before flipping the egg.
In order to keep the yolk intact, you should gently flip the egg with a flat spatula and as close to the pan as possible. The higher you will flip the egg from, the higher the chance the yolk will break.
When you dip your fork into the center of an over-easy egg, the yolk should be runny, golden, and begging to be sopped up by your favorite toast. And that's how to cook over easy eggs. Simple right?
How to Make Sunny-Side-Up Eggs
Let's be real, the classic sunny-side-up eggs are the most visually appealing eggs of the bunch. Sunny side-up eggs don't need to be flipped—just crack them into a pan of butter or oil, let them sizzle for 2-3 minutes, and serve. The yolk should be round, bright, and oozing optimism.
What About Over-Medium Eggs?
Folks who don't love super runny yolks—we see you. And we didn't mean for that to rhyme.
If you're someone that doesn't like your yolk to run all over your plate, all you need to do is cook your eggs longer. Over-easy eggs take 30 seconds to cook on both sides. For a jammy over-medium yolk, cook each side for an additional 30 seconds.
Egg Recipes That Aren't Boring
There's no doubt about it—eggs rule the breakfast plate. Here are our five exciting egg recipes to amp up your breakfast game and win the hearts (and tastebuds) of even the pickiest eaters.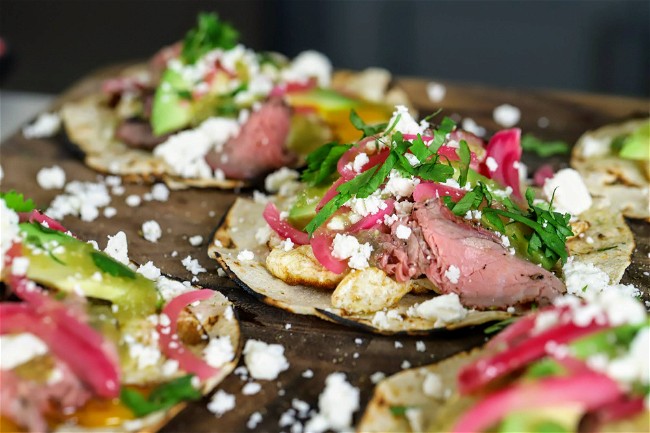 Who says tri-tip isn't breakfast food? We beg to differ. Breakfast tacos are a delicious and easy way to start your mornings. Especially with a taste of deliciously cooked over-easy eggs.
Begin by pickling your onions the day before. You can start this process on a Friday night so you can wake up to a fun Saturday breakfast. Trust us, this prep work will pay off.
Place julienned red onion, garlic, jalapeno, and peppercorns into a jar of simmered vinegar, water, salt, and sugar. Set it in your fridge and let it pickle for 24 hours. In the morning, start your smoker and generously season your tri-tip with our BBQ General SPG Rub. Is your mouth starting to water? Continue reading to follow our full breakfast taco recipe straight to the finish line.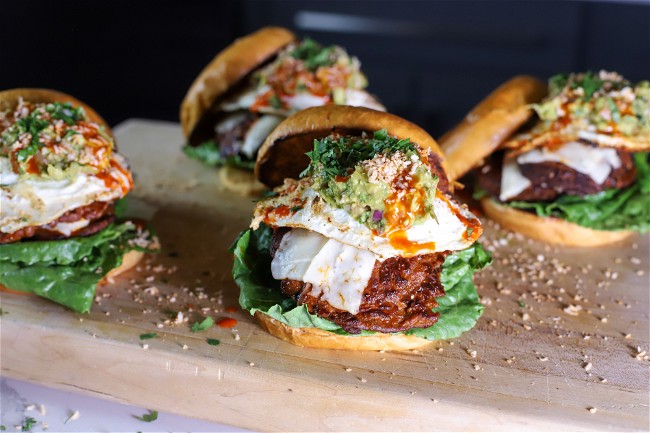 Smash your morning in style with our Chorizo Smash Burgers. These zesty burgers are full of all your favorites—chorizo, avocado, elote, and a fried egg. Start by dividing your chorizo into meatballs and set them aside.
Now for the fun part. Make your guacamole by peeling, seeding, and smashing your avocados into a bowl. Mix tomatoes, onions, cilantro, lime juice, and two tablespoons of our Elote Street Corn Blend. Follow the remaining steps of our full recipe for the ultimate bite of fun your morning deserves.
Meet the breakfast of champions—steak and eggs. This lumberjack-inspired skillet pairs a lean flank steak with a side of hot, golden eggs that'll have you itching to throw on some flannel and chop a tree. The best part about this recipe is that you can whip it up in under 30 minutes.
Season your flank steak with our Lumberjack Hickory Maple and sear until you've reached your desired cook. While you let it rest, crack your eggs into a non-stick skillet and cook until the edges are crisp and the whites are firm. Bring out your inner Paul Bunyan and read our full recipe.

Eggs on yogurt? Hold on, stay with us. This unlikely pair will have you licking the plate. Turkish eggs are easy, healthy, and can be served with just about anything. Fry your eggs the way you like them and place them on top of a generous amount of Greek yogurt.
Sprinkle your eggs with our crown jewel of seasoning blends, the King Shallot, and season with a few shakes of Open Sesame. Want to know what to serve your Turkish Eggs with? Read our recipe to find out.

Hollandaise is a sauce worth hollering about—but it's even better when you pour it over our Brisket Eggs Benedict. Create a show-stopping benedict the whole family will love by piling sweet smoked brisket on top of a crispy English muffin.
Homemade hollandaise sauce tastes better than anything you'll find in a store. Whisk eggs, water, butter, lemon juice, and our Bee Sting BBQ Rub together for a smooth and savory hollandaise. Finish by crowing this benedict with a perfectly poached egg. Want the whole recipe? Keep reading to follow all eight steps.
Take a Walk on the Sunny Side With PS Seasoning
Eggs are one of the most versatile foods in the world—so don't make them boring. Whether you love your eggs over-easy or on the sunny side, we have a seasoning that will enhance your entire plate. Season your eggs in style and shop PS Seasoning's collection of seasonings today.