Homemade Ring Bologna
This coarse-cut country-style ring bologna has great fat content and particle definition, making it perfect for the frying pan.
Learn more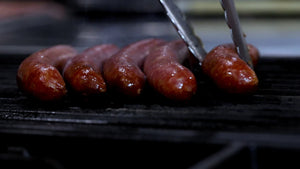 Homemade Hot Dogs
Learn how to make homemade hot dogs like a pro! Our tried and true hot dog recipe results in smoky and savory hot dogs with the perfect 'snap'. 
Learn more
HOW CURED SAUSAGES ARE MADE

While the sausage grinder may bring all the excitement, and the casing may show off skill, there's a step in between that really makes a difference for how your sausage tastes — the sausage seasoning! Get the sausage seasoning right, and you have a flavorful masterpiece on your hands; get it wrong, and you'll be back at the grinder again.

PS Seasoning has a huge variety of sausage seasoning choices so you can make sausage in an array of styles, from homemade bologna to salami and other cured sausages. Cured sausage has always been a favorite in the sausage making industry, giving birth to plenty of unique sausage seasonings. 

Once you get started with the right salami or bologna recipe, you'll be ready to take on the entire world.
WHAT MEAT DO YOU USE TO MAKE CURED SAUSAGE?

What comes to mind when you think of cured sausage meat? Pork, chicken, beef. But sausage can be made from all kinds of meat, not just ground pork. There's lamb (common with merguez for instance), veal, turkey and venison, even vegan sausage. Heck, even gator! As long as you can add enough fat, it can be great for sausage.
HOW TO SEASON CURED SAUSAGE

There are as many different sausages as there are seasonings. Looking for some ideas of what to make? Check out a few of our sausage types below, and be sure to send along pics of your best meals.
BRING ON THE BOLOGNA

There's no one kind of bologna. We have bologna seasoning and cures that can help you make a range. From classic ring bologna with hints of sweetness, nutmeg and white pepper to a spicier blend with garlic and black pepper. Our German bologna blend brings garlic and mustard seed to the table for an authentic flavor. Mettwurst is made similarly to ring bologna, but has a different flavor more akin to a peppery, garlic bratwurst.
UNIQUE SAUSAGE SEASONING

We offer sausage seasoning for other varieties of sausage, too. From Polish sausage to Weisswurst, Slovenian Kranskies to Linguisa, you will find it here. Explore our sausage seasonings to your heart's content above.